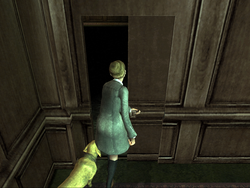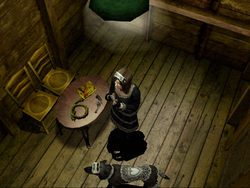 The Secret Room is a room Jennifer can access in the "Rag Princess Sews" chapter by using the Secret Room Key. It is located in the hallway across from the VIP Room. There, an outline of a door can be seen.
How to unlock
The "Secret Room Key" is obtainable by using the Find command on the Candy item while in the Working Class Luggage (where Amanda is often seen sewing). Brown will then uncover Spring, one of the perfumes of the Four Seasons.
To obtain the Summer perfume, the Find command must be used on the Spring perfume in the Library, thus allowing Brown to uncover the Fall perfume.
The Winter perfume can be uncovered by using the Find command on the Fall perfume while in the Dressing Room. Once all of the perfumes have been obtained, they may be put into the gift box. Jennifer will then receive the "Secret Room Key" in return.
To access the Secret Room, the key must be used on the door. Jennifer will then find herself in the Hidden Hallway, where another door can be seen at the end of it. Upon opening the door, Jennifer will discover the Prince and Princess' Quarters, where the Revolver will be seen on the table.
The revolver comes with one bullet, but Jennifer can acquire more bullets while at the Rose Garden Orphanage, by using the "find" command on the gun.
Community content is available under
CC-BY-SA
unless otherwise noted.